10ppm Silver Supplement
A daily supplement to help maintain optimal health
24ppm Silver Gel
A topical gel used on the skin and body to help destroy bacteria for up to 4 hours as well as to accelarate wound healing. A must-have in your first aid kit!
30ppm Silver Supplement
Helps maintain stronger health and builds a stronger immune system
Carestat Wound Gel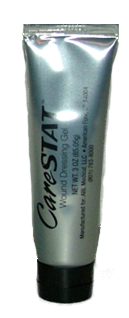 A medical wound dressing gel that can be used on both dry and wet wounds such as diabetic ulcers, 1st and 2nd degree burns as well as skin irritations
32ppm Silver Disinfectant
ArgasolTM has been clinically proven as a broad-spectrum anti-bacterial aid against wound and skin pathogens. Its 4-hour continuous bacteria protection also kills yeast and fungi, helping manage 'hot spots' and localized skin infections. The spray can be used both topically and orally as an effective anti-microbial and skin protectant. It does not sting and is gentle on your pet.
24ppm SIlver Gel
SilverSol® Technology produces patented nanoresonated silver particles suspended in a medium of highly purified water or gel for use as a revolutionary broad-spectrum antibacterial, anti-viral and anti-fungal solution.